The Funding of Moncus Park
As Acadiana's only nonprofit, independent park, Moncus Park needs a community of supporters for its success.  Similar to how thousands of residents came together to save the property, and thousands more came together to help design the park's visionary master plan, the park will need that same community of supporters to bring more park elements to life, and to provide the creative and diverse events and programming that the community told us they wanted to see. As many of you know, Moncus Park is operated by a nonprofit organization, and your donations are tax-deductible.  The park does not receive local tax dollars for its construction, maintenance or operation like the other parks across Lafayette Parish, and it is not included in Lafayette Consolidated Government's annual budget like the Parks and Recreation Department. 
To date, the park has received funding for planning, design, construction, and operations from the following sources:
PRIVATE SOURCES: 85.3%

Private Donations – 79.3%
Event Revenue – 4.4%
Investment Income – 1.6%

QUASI-PUBLIC SOURCES (for planning and design): 10%

Grant from Lafayette Public Trust Financing Authority (not derived from local tax dollars) 

LOCAL PUBLIC SOURCES: 2.3%

Grant from Lafayette Economic Development Authority 

 

STATE AND FEDERAL PUBLIC GRANTS: 2.4% 

Louisiana State Capital Outlay – 1.9%
State and Federal Grants – 0.5%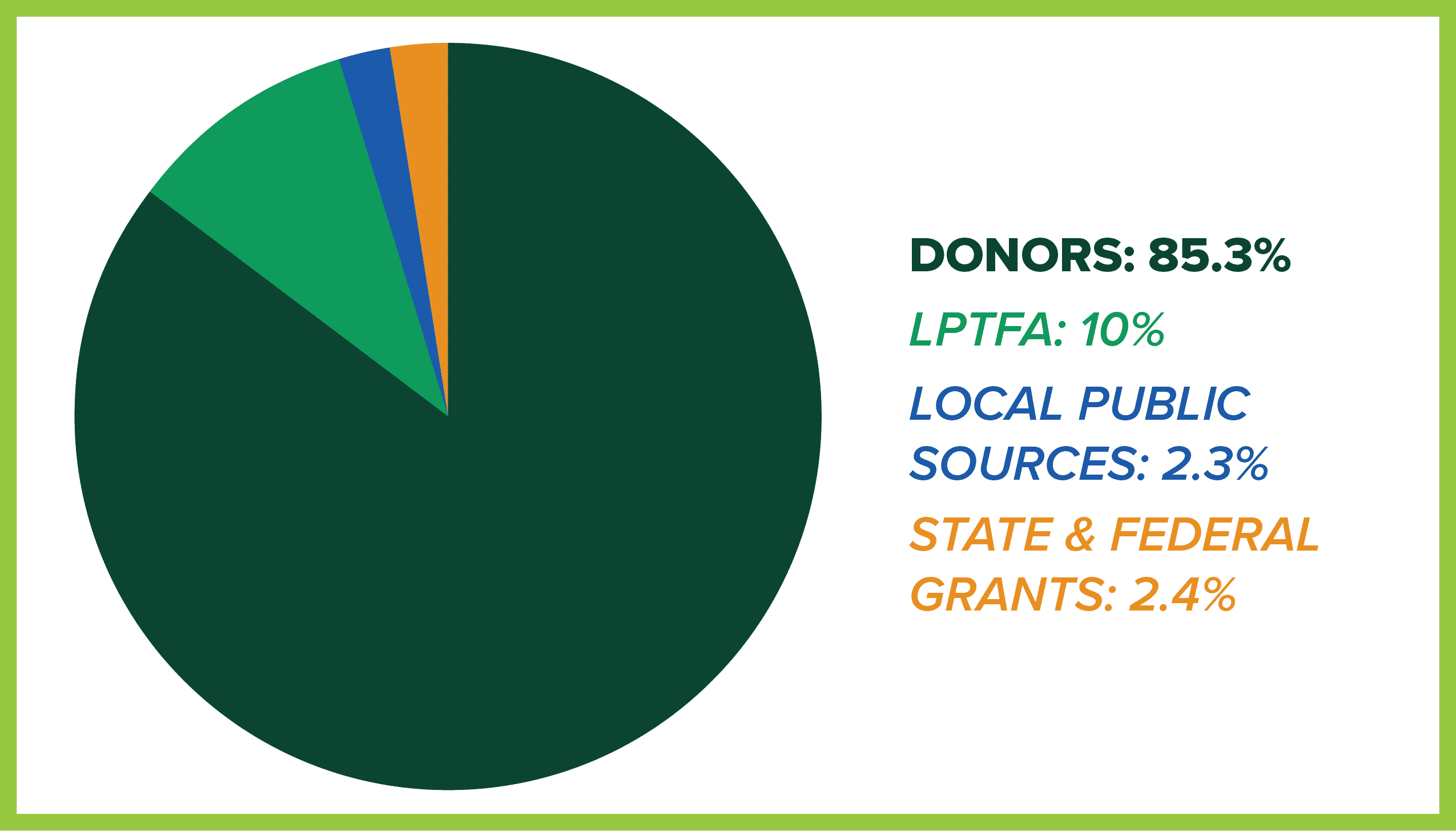 Moncus Park will bring so many unique and exceptional things to Acadiana, from the beautiful features we are building to the wide array of community events and programming we will offer in the park. Those features, events, and programs will be made possible through the generosity of our community, not your local tax dollars. As with everything it has taken to save the park property, to design its visionary master plan, and to fund its construction and operations, it will take a village, and that village is all of us. This park is the first of its kind in Acadiana, and we must not only celebrate its uniqueness but pledge to help sustain it – a beautiful, long-lasting legacy to leave behind for our children and their children.
This community has been involved every step of the way in making this dream a reality, and the park needs annual supporters like you in the years to come in order to maintain and enhance this beautiful natural landscape for its enjoyment now and for future generations. Moncus Park is a park for you, powered by you, and your generosity will make this community-owned park able to grow and thrive. Because it is a nonprofit, independent park, every donation counts – large and small – and we are excited to offer various levels of park memberships as well as volunteer opportunities for individuals and businesses interested in contributing and supporting in these ways.