Become a Moncus Park Volunteer!
Interested in becoming a Moncus Park volunteer? Whether you would like to be out in the Park, provide event support, or assist with weekly programming, there are a variety of ways to lend a hand at Moncus Park.
Volunteers are crucial to maintaining and improving the health of Moncus Park. Each year Moncus Park sees nearly 500 volunteers work hard to keep our landscapes thriving. With nearly 100 acres to take care of, there's a lot to do! Together we can continue to properly care for this Park, which means so much to so many.
To become a Moncus Park volunteer, begin by completing a volunteer registration form below.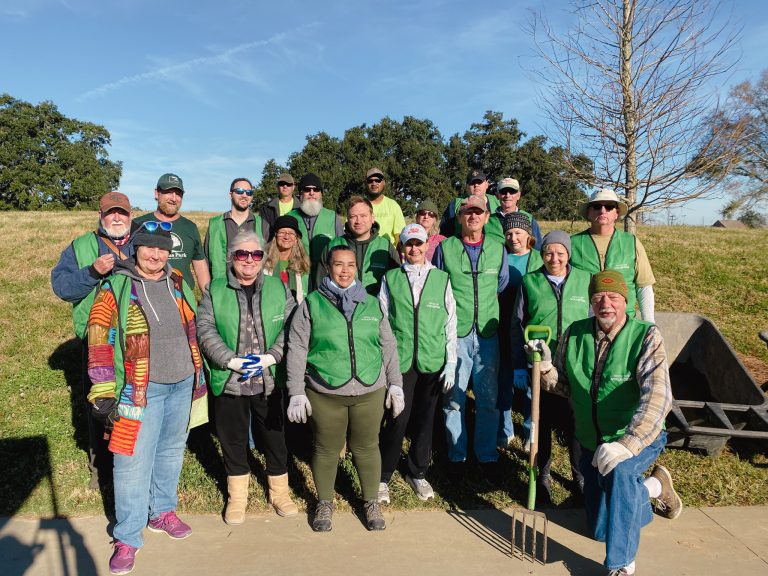 AVAILABLE VOLUNTEER OPPORTUNITIES:
Volunteers are needed on a daily, weekly, and monthly basis to assist with the following tasks:
Daily Park Maintenance
Event Assistance
Special Projects
Activities include, but are not limited to:
Spreading mulch
Weeding flower beds
Event set-up and clean up
Sanitation
Guest Services
Picking up litter
Sign up below!
VOLUNTEER OPPORTUNITY DETAILS
Interested in lending a hand at Moncus Park? We'd love your help! With multiple events coming up this holiday season, we hope we can count on your support to make miracles happen at Moncus Park! Check back soon for more details on how to help out at Christmas in the Park, Teddy Bear Tea, Murder & Mystery Brunch, and Christmas Movies & Caroling!
Moncus Park counts on volunteer support at its events throughout the year. Major events require many hands to achieve success! To pull off each of these events, Moncus Park counts on volunteers to help with preparation, event check-in, and post-event clean up.
Volunteers are needed to keep the Park looking clean and beautiful. These are just a few of the activities volunteers perform in the Park:
Weeding and mulching plant beds

Planting and watering trees

Removing invasive plants
Taking out trash
Litter Abatement
Planting new landscapes
There are a variety of special projects and needs that you can help Moncus Park with! From plant bed weeding to cleaning of Park furniture, you can help make a difference! Volunteers just like you support our grounds crew by lending a hand to keep Moncus Park beautiful. Volunteer Day activities can include but are not limited to the following tasks: 
Louisiana Iris Bed Maintenance

Seed Harvesting

Special Projects
Dog Park Ambassador Program
Dog Park Ambassadors help Moncus Park and the Acadiana community of dog lovers keep Giles Automotive Family Small Dog Park a happy, healthy, and safe space for dogs and their owners to relax and enjoy. This valuable opportunity includes: 
Welcoming and greeting users of the Dog Park

Monitoring Dog Park guests and their furry companions

Facilitating

 a fun and enjoyable environment in the Dog Park

Educating, informing, and advocating for Giles Small Dog Park
COMING SOON: Adopt A Bed
Adopt A Bed is an opportunity for friends and service organizations to help maintain and beautify various garden beds in the Park. We are home to thousands of plant species and need all the help we can get to help our landscapes thrive! Volunteers are expected to come out weekly to weed, replenish, and care for their dedicated garden bed. Park adopters can be groups of individuals, neighborhood associations, community organizations, school clubs, or local businesses. If this is something you may be interested in, please fill out the form below!
For other volunteer opportunities please contact our Community Engagement Director at info@moncuspark.org.
PARTNERSHIP OPPORUNITIES:
Through corporate and community partnerships, Moncus Park is able to nurture and facilitate positive experiences for the community by providing quality facilities, services, and programs.
Corporate engagement can be defined as workplace-based partnerships where employers provide support or encouragement to facilitate volunteering efforts or other involvement opportunities with local organizations.
In-kind giving is the donation of tangible goods or services, such as park equipment, supplies, and/or professional expertise. Goods may also be intangible, such as advertising, patents, royalties, and copyrights.
Community Programming is an excellent way to reinforce the interconnection between community members. Programming at Moncus Park will be geared towards diverse audiences of all ages and will focus on health and wellness, arts and culture, and environmental education.
Stay Connected to find out more about opportunities and events.