Become a Moncus Park Volunteer!
Interested in becoming a Moncus Park volunteer? Whether you would like to be out in the Park, provide event support, or assist with weekly programming, there are a variety of ways to lend a hand at Moncus Park.
Volunteers are crucial to maintaining and improving the health of Moncus Park. Each year Moncus Park sees nearly 500 volunteers work hard to keep our landscapes thriving. With nearly 100 acres to take care of, there's a lot to do! Together we can continue to properly care for this Park, which means so much to so many.
For questions about our current Volunteer Opportunities or for questions regarding Community Service, please email Rebecca Owens at rowens@moncuspark.org.
To register as a volunteer and join our mailing list to learn about upcoming volunteer opportunities, complete the Volunteer Registration here OR select one of our regular volunteer opportunities below to get involved today!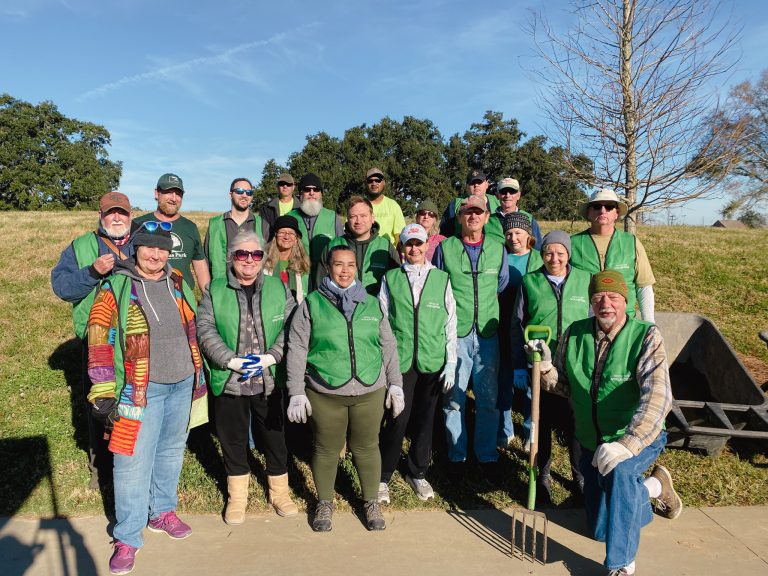 Volunteers must register through the portal and create an account before selecting a Volunteer Opportunity.
Volunteers are encouraged to wear closed-toe shoes and weather appropriate clothing.
Please bring a water bottle, gloves, and any other materials that you desire to help you complete your task!
PARTNERSHIP OPPORUNITIES:
Through corporate and community partnerships, Moncus Park is able to nurture and facilitate positive experiences for the community by providing quality facilities, services, and programs. Whether it's adopting a garden bed, donating seeds or organic material, you can make a difference at Moncus Park! 
Corporate Engagement: Corporate engagement can be defined as workplace-based partnerships where employers provide support or encouragement to facilitate volunteering efforts or other involvement opportunities with local organizations.
Adopt-A-Bed:  is an opportunity for friends, service organizations, or businesses to help maintain and beautify various garden beds in Moncus Park. We are home to hundreds of plant species and need your help to maintain them! Volunteers are asked to come out weekly or bi-weekly to weed, replenish, and care for their dedicated garden bed. Park adopters can be groups of individual plant lovers, neighborhood associations, community organizations, school clubs, or local businesses.  
In-kind Giving: In-kind Giving can be defined as the donation of tangible goods or services, such as park equipment, supplies, and/or professional expertise.