The Veterans Memorial at Moncus Park
The Veterans Memorial at Moncus Park is a lasting symbol of the courage, patriotism, sacrifice, and honor of all who have served. The memorial space features a flag court, flanked by large tablets that commemorate American military participation in key conflicts throughout history. The Memorial also features inscriptions in brick pavers and seat walls that have been sponsored by local Veterans and their loved ones in honor of their service.
The Veterans Memorial was made possible by substantial contributions from Patrick & Ann Herrington, The Lowe Family, James Parkerson Roy Family Fund, Mills Family Foundation, Inc., On Call Band, Pinhook Foundation, Inc., Ramsay Corporation, Schilling Distributing Company, Stanley and Susan Blackstone, Stuller Family Foundation, The Schilling Family, The Beaver Club, and hundreds of community supporters through the ongoing brick paver and seat wall inscription campaigns advocated by the Veterans Memorial at Moncus Park Committee and Veterans Action Coalition.
Throughout the planning and design process for the Park's master plan, Veterans have been engaged on many levels. Their participation ensured that this beautiful space serves the needs of many different types of military events including memorial ceremonies, military weddings, holiday celebrations, and more.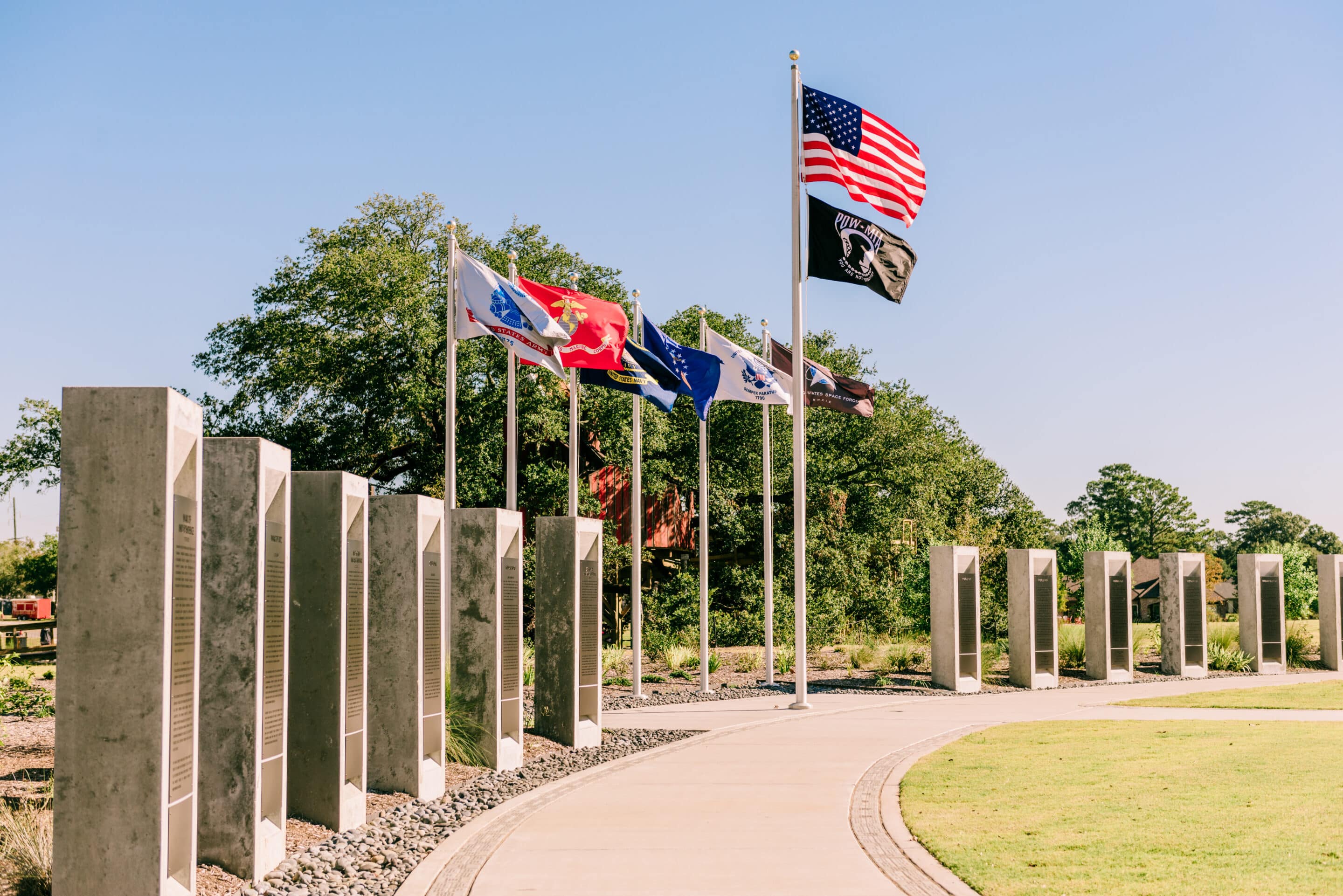 "Wow, we have finally made it! The Veterans Memorial at Moncus Park can now celebrate those men and women who have served our country in the U.S. Armed Forces since our War for Independence almost 250 years ago. This beautiful park, which has enhanced our city and community, was made possible by generous and hard-working folks, but would not even be a whisper in the wind without our veterans' service for our country's freedom,"
Support the Veterans Memorial
Purchase a custom brick paver or seat wall to honor a Veteran in your life!
*If you purchased a brick between April 2022 – January 2023, your brick has been processed and will be installed soon. If you purchased a brick after January 5, 2023, installation will be this summer.*
Support the Veterans Memorial by donating to support its operations & maintenance! 
* For seat wall & brick inquiries please contact Avery at acomeaux@moncuspark.org. 
The Veterans Memorial was made possible through the generous contributions of the following organizations and families:
 You can also mail in a contribution to:
Lafayette Central Park, Inc.
2901 Johnston Street, Suite 304
Lafayette, LA 70503
If you'd like to discuss additional giving options, please contact:
Avery Comeaux
337-500-1922
acomeaux@moncuspark.org