BE A PART OF THE KREWE THAT MAKES IT ALL POSSIBLE
Moncus Park's purpose is to enhance and preserve the Park as a vital greenspace, cultural, and recreational resource that enriches the quality of life for all of Acadiana. And we can't do it without you!
By becoming a member, you can help ensure that Moncus Park is enhanced for generations to come. 
Plus, all membership levels enjoy a variety of fun and rewarding benefits including invitations to exciting member-exclusive events! For a detailed list of benefits, see below.
*Members of Moncus Park will receive parking perks starting at the Park Champion level. Memberships are non-refundable. Memberships will automatically renew a year from your registration date. Emails will be sent a month prior to your renewal date to serve as a reminder if you need to cancel or wish to upgrade your membership! Please note parking perks will not be valid during special events where the parking lot is being used.
Questions? Please email Victoria Dodge at vdodge@moncuspark.org.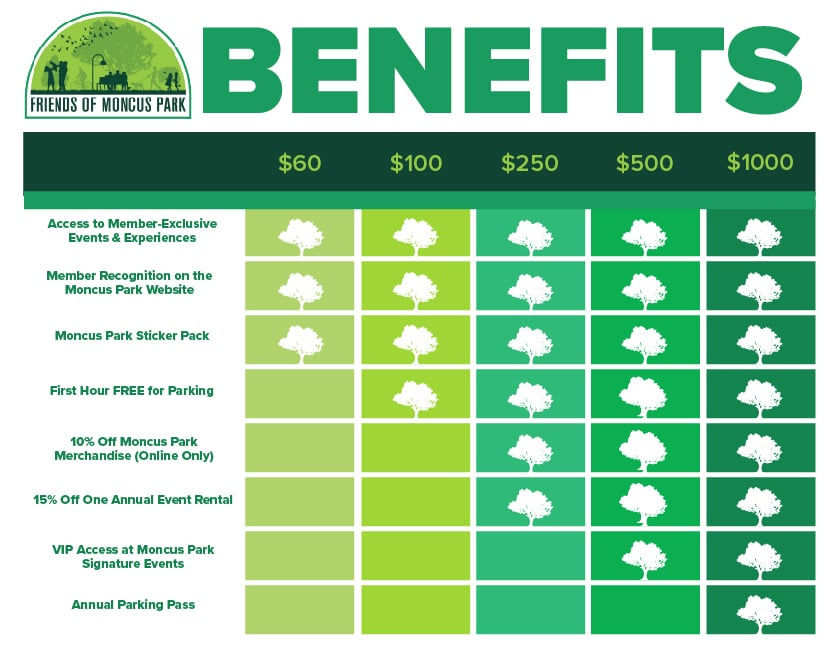 PAST MEMBER-EXCLUSIVE EVENTS
Exclusive Tour of Phase 2
Aimée Dominique
Alex Vidrine
Alexandra Laggner
Allen & Winnie Bacque
Alyce Morgan
Amanda Fuselier
Amber Oustalet
Ambrose Stearns
Amelia Harb
Andrew Boulet
Angelina Royal
Angela Snow
Angie Cubbedge
Ava Couvillon
Beau Lemoine
Bennett LaMotte
Beth Chiasson
Brecky Lavigne
Brenda Melancon
Brenna Peavy
Brett Brown
Britlyn Faulk
Brittany and Ross Herpin
Brittany Stanonis
Britton Bruce
Callie Callais-Rusich
Carl LeBlanc
Carli Graf
Carol Dudney
Carol Groth
Carol Stubbs
Carol Antosiak
Carolyn Landry
Cassie Mouton
Cathy LaGrange
Charlotte Courville
Cher Joubert
Cheryl Guidry
CiCi Baudoin
Cori Webre
Courtney Sears
Darrellyn Burts
David Adams
Demetria Lachney
Denae Hebert
Diane Fontenot
Dolores Dallas
Don Holbert
Dorothy Ducote
Dorothy Pellessier
Doug Blair
Douglas Drake
Elizabeth Callais
Elizabeth Menard
Elizabeth Smith Nehrbass
Elliot Myers
Emily Borgen
Emily Liss
Emma Lerille
Eric Francis
Erin Segura
Erin Welch
Felicita Vidrine
Frank DiBenedetto
Gage Dupuy
Gayle Smith
Gene Ledet
George Crowley
Gina Bradley
Gretchen George
Harold Leleux
Heather Birdsong
Heidi Guillory
Holly Stickney
Jade Angelle
James Blankenship
Jami Lombardo
Jamie Duval
Jayna Rangel
Jeanne Hudson
Jen Fournet
Jennifer Fontenot
Jennifer Guillory
Jessica Magro
Jessica Verret
Jill Bernard
Jillian Bradley
Jimmy Champagne
Joan Parish
Joel Gooch
John Bosch
Joseph Benoit
Joy Collette
Joyce Beckwith
Judy David
Julia Allen
Julia Ranzino
Julie Broussard
Julie LaFleur
Julius Austin
Karen Dore
Katherine & Archie Hill
Katherine Lemoine
Kathy Welch
Katrena King
Kelly Such Stewart
Kimberly Allen
Kristie Tatford
Kristina Siracusa
Kurt Trahan
Laura Couvillon Humble
Lauren Bourgeois
Lindsey Guidry
Lisa Breaux
Lisa Higginbotham-Williams
Lizabeth Duhon
Logan Dupre
Lois Mills
LouAnne Greenwald
Lydia Keeton
Macie Gossen
Marie Barry
Marie Savoy
Marisa Collins
Martha LeJeune
Marti Thomas
Mary Jane Scott
Mary Sanders
Mary Schexnayder
Matt Walters
Matthew Turner
Maureen Baumer
Megan Constantin
Micah Bruce-Davis
Molly Cole
Myra Tener
Nadine Arnaud
Nadya Kozinets
Nell Aucoin
Nick Richert
Nikki Boyd
Norma Leblanc
Ola Ayers
Olivia Jean Finley
Pamela Boswell
Patricia Morrow
Penny Collins
Phoebe Hingle
Randall Smith
Renee Delahoussaye
Rhonda Thornton
Robert Benoit
Rock Brunet
Ryan LeBlanc
Samantha Jones
Sandra Thomas
Sara Terro
Shari Holleman
Sharon Broussard
Shawn Kelley
Sherrie Fremin Baudoin
Spencer Nezat
Stephen Broussard
Susan Anderson
Susan Benoit
Susan Moreau
Suzanne Breaux
Tara Harvey-Gros
Tara Holbert
Tatty Ortego
Thomas Quinn
Tim Rhymes
Tony Beaugh
Trina Broussard
Tyler Richey
Vicki Cortelyou
Wesley Gautreaux
Alan & Ren Benit
Alee Khambounleuang
Alicia Scott
Alida Villien
Amelia Papillion
Amie Clostio
Amy Adams
Amy Boudreaux
Amy Bozeman
Amy Brassieur
Andrew Duhon
Andrew Eschete
Angie Domingue
Anita Begnaud
April Fontana
Art Mixon
Balanced Gravity
Barbara Feske
Barbara Mcclees
Ben Pejsach
Bennett Marcel
Bernie Ernest
Beth Brooksher
Beth Stauffer
Beverly Burgin
Beverly McMinn
Bonnie Camos
Bree Sargent
Brett Moreau
Brooke Baldridge
Bruce Conque
Caitlin Smith
Cal Eschete
Camille Arsement
Carlroline James
Carolyn Rink
Cecile Kent
Charley Hutchens
Chester Cedars
Chris Melancon
Chris Sammons
Christie Maloyed
Christina Broussard
Christopher Hauerwas
Claire Andrus
Claire Lavergne
Claudia Campbell
Clifford Nepveaux
Connie Chance
Connie Simoneaux
Conrad Armbruster
Constance Sittig
Cynthia Hebert
Dan Ritchey
Dana Chauffe
Danny Lasseigne
David and Sue Adams
David Causey
David Fatheree
David Gallineau
David Hays
David Niland
David Rabalais
Delizioseaux Pasta Sauces
Denise Sadler
Diane Broussard
Dillan Crawford
Donna Delahoussaye
Donna Fontenot
Donna Sanchez
Douglas Longman
Eileen Menard Martin
Elizabeth Arcuri
Ellen Deaton
Elsa Mendoza
Emilly LeDee
Emily Adams
Emily Castillo
Emily Wright
Erin Berlier
Erin Roy
Evie Petit
Fabiane Barato Speyrer
Fawn Hernandez
George Holland
Germaine Gjertson
Glynis Fournerat
Goulas Real Estate
Graze Acadiana, LLC
Gregory Reggie
Hamid Mohammad
Heather Duplechain
Helen Escott
Holly Howat
Ian Beamish
Isola Hoff
Jacob Roberie
Jacques Landry
James Pate
James Pierret
Jan Swift
Jane Hebert
Joanie Young
John & Jane Raggio
Janell Whittington
Janet Istre
Janis Thomas
Jason Cohen
Jeanne Marie Lousao
Jenica Buller
Jennifer Castille
Jennifer Kelly
Jennifer Lantier
Jennifer Lemoine
Jennifer Warnke
Jerald Thomas
Jesse Lambert
Jessica Allain
Jessica Holland
Jessie Iles
Jim Venable
Joan Guidry
JoAnn Hebert
John Brent Rhodes
John Petersen
Kalyn Simon
Karen Gambel
Karl Spatz
Kate Heinen
Kate Louviere
Katherine Hebert
Kathleen Heinen
Kathryn Bernard
Katie Haik
Kayla Petitjean
Kaylie LeBlanc
Kelly Kolniak
Kenneth McCarron
Kim Galjour
Kirbie Pecot
Laura Hughes
Laura LaHaye
Laura Truxillo
Lee Fontenot
Leigh Ann Marks
Leigh Martin
Letty Zapata
Linda Lipstate
Linda Ward
Lisa Boudreaux
Lisa Strauss
Lisa & Ed Rios
Lise Anne Slatten
Liz Hackett-Mouton
Louis Salvaggio
Louise Ganucheau
Lydia Cloninger
Lynette Mejia
Mandy Melebeck
Marabie Travel – Michelle Mashburn Arabie
Marcie Yeager
Maribel Dietz
Marissa Russo
Mark Borel
Mark Stephan
Marla Meche
Marlene Wenzel
Marlene Wenzel
Marti Thomas
Mary Guidry
Mary Hernandez
Mary Manuel
Mary Rachel Moore
Matthew Dugas
Mazie Movassaghi
Meggin Whitmore
Melodi Marchiafava
Michael Broussard
Michael Craton
Michael Jones
Michael Soileau
Michele Weaver
Michele Zerangue
Michelle Perron
Mignon Baronne
Mike Richard
Mitchel Karam
Monica Bryan
Monique DuBois
Morgan Leggio
Nancy Brennan
Nanette Cook
Nanette Harkless
Natalie Person
Nicole Deaville
Nicole Harper
Paige Kennedy
Paul Martin
Paul Medus
Paula Smith
Paulette Fontenot
Pecot & Company Architects
Peggy Jo Michaelis
Peggy Melancon
Penny Barthlemy
Philip Boudreaux
Philip Perret
Phyllis Michel
Priscilla Cazayoux
Rachael Hopkins
Rami Brignac
Raymond Domingue
Rebecca Roy
Rebecca Vance
Reggie Dupré
Reginald Drye
Renee Harrison
Richard Foard
Richard Hoyt
Rick Dupuis
Robert Morrow
Robert Powers
Romeo Perez Jr
Ronald Daigle
Rose Fontana
Roxanne Bourque
Ryan Goudelocke
Ryan Hoffpauir
Sally Hebert
Sara Billiot
Sara Whitney
Sasha Fogle
Scott Hargrave
Scott Longon
Scratch Farm Kitchen
Shana Warren
Shannon Spallino Bihm
Sheila Fontenot
Shelby White
Shelley Thomas
Steeve Rees
Stephanie Fournet
Stephanie LeBlanc
Stuart Johnson
Susanna Garcia
Suzy Lemoine
Tammy Milam
Tannia Fournet
Tara Brannon
Tara Sturgis
Tessa LaPierre
The Britten Family
The Lewellyn Family
Theresa Bodker
Tiffany Segura
Tiffany Capps
Todd Cormier
Tony Murray
Tracy Ralston
Tressie Ham
Tricia Jacob
Trisha Casanova
Tylor Desormeaux
United Tile Of Lafayette
Universal Martial Arts & HD Elite Services
Valerie Dionne
Vanessa LaSala
Vicki Anderson
Wayne Cox
Wayne Domingue
Wendy Begneaud
William Schmidt
Will Hernandez
Yvette Quantz
Acadiana Talent/ Nancy Nicholson
Amy LeBlanc
Andrew Duhon
Anne Guarisco
Beth Brooks
Boyd Girouard
Brett Ashy
Cajun Food Tours
Christy Shaw
Connie Voth
Dale Thevenet
Damion Provost
David Jenkins
Desiree Comeaux
Dexter Portalis
Diana Lennon
Dow Drobish
Eli Ramirez
Elizabeth Hamilton
Emily Daigle
Fred Davis
Fred Werner
Gerald Judice
Greg Guidry
Jackie David
Jacob Groth
Jennifer Jackson
Jim Piccione
Jordan Precht
Judy Sturm
Karen Johnson
Katie LaSala
Keri Delhomme
Kirk Bacon
Lea Hawkins
Lee Verret
Leecie Kennedy
Lindy Bolgiano
Lulu David & Co.
Lynda Judice
Marilyn Castle
Martha Viator
Melissa Ross
Michael-Anthony Gilbert
Mickie Collins
Neelam Gupta
Nicole Curtis
Olga Pulkowski
Patrick McDonald
Peter Manganello
Rebecca Rivet
Richard Spoon
Rose Fontana
Rosemary Parisi
Reed & Sally Andrus
Scott Hair
Shawn Hernandez
Spencer Hoyt
Stuart Clark
Theresa Sudduth
Todd Trahan
Tom McCasland
Tracy Curtis
Vanessa Culbertson
Victoria Baker Flores
Victoria Mercer
Adele McElderry
Blaine Walton
Brent Milam
Brett Mellington
Charles Schwab
Chase Group Construction LLC
Cindy Randazzo
Collin McMinn
David Calhoun
Debbie Spallino
Diane Gonzales
Dorothy Clyne
Gary Russo
Jeff Gunnels
Colleen & John Chappuis
John Redd
Kimberly Horn
Laura Hanes
Lucy Osborn
Mandy Simon
Maria Breaux
Matthew Dauterive
Pam Grist
Patrick Lamb
Patty Prather
Samantha Olivier
Shira Pfister
Wesley Gautreaux
Yvonne Dedo
Amanda Alleyn
Amanda & Jessie Fontenot
Angi Davis
Barry Bohn
Bryn Mosing
Caitlyn Frayard
Charles Brandt
Charon Harris
David Landry
Denbo Montgomery
Donna Guidry
Donna Venable
Joyce Beckwith
Kevin Gossen
Lauren Poche
Paul Breaux
Rick Frayard
Robert Eddy
Southern Family Dental
Stanley Blackstone
Steve Orlando
Stuart Burgess
Taylor Davis
The Thibodeaux Company, LLC
Thomas Hightower, Jr.
Vohn Mosing

Beautiful park with excellent landscaping. They did a great job creating a space for everyone. There is a large playground for kids, some nice elevation change with some hills, and a really cool water feature with the pond. Looking forward to further development of this park.
Mateo Atwi
Great park, paved walking paths with a crushed stone jogging path that's a little easier on your feet. Dog park is also available, currently alternating days for large and small dogs. Stocked pond on site as well.
Nicholas Leonards
This park is still in its building phase and it's already the best one in town. The trails in the woods are very cool. Looking forward to the bike trail addition and the back area landscaping development. What an asset for the city of Lafayette.
Thomas Rickett
Beautiful park with fun activities. Come for the Farmer's market on Saturdays or special events on the weekends. There is an awesome tree house and playground for the kids and many acres to wander and explore.
Kri (Klmbean)
Great place to fish bass, catfish, perch and brim and even got a little playground for the kids and a splash pad.
Carla Leger
Great Park with a little of everything. From bathrooms, to play areas, treehouse, splash pad, hiking trails, and places to hang a hammock.
Tasha Batiste
The kids play area is soft and safe, love all the interactions and water splash pad. This is an awesome park for just the kids or adults to explore. Thank you for building a great place to hang out and enjoy the greenery.
Ronald Bertucci