Become an Annual Member of Moncus Park!
Our community of donors are the reason we are able to sustain Moncus Park.

Join our community of annual supporters by becoming a member today.
Become a Founding Member today and join the alliance that keeps Moncus Park green and vibrant!
Your membership is an investment in the future of the Park, and helps keep our grounds beautiful.  Moncus Park Members provide the kind of unconditional love that a project of this scale will need from the community.  Your support is vital in helping us restore, preserve, and improve the treasure that is Moncus Park.
As a member, you will receive special park newsletters and invitations throughout the year, as well as discounts on select park merchandise. You'll also feel great and can confidently say, "It's My Park!"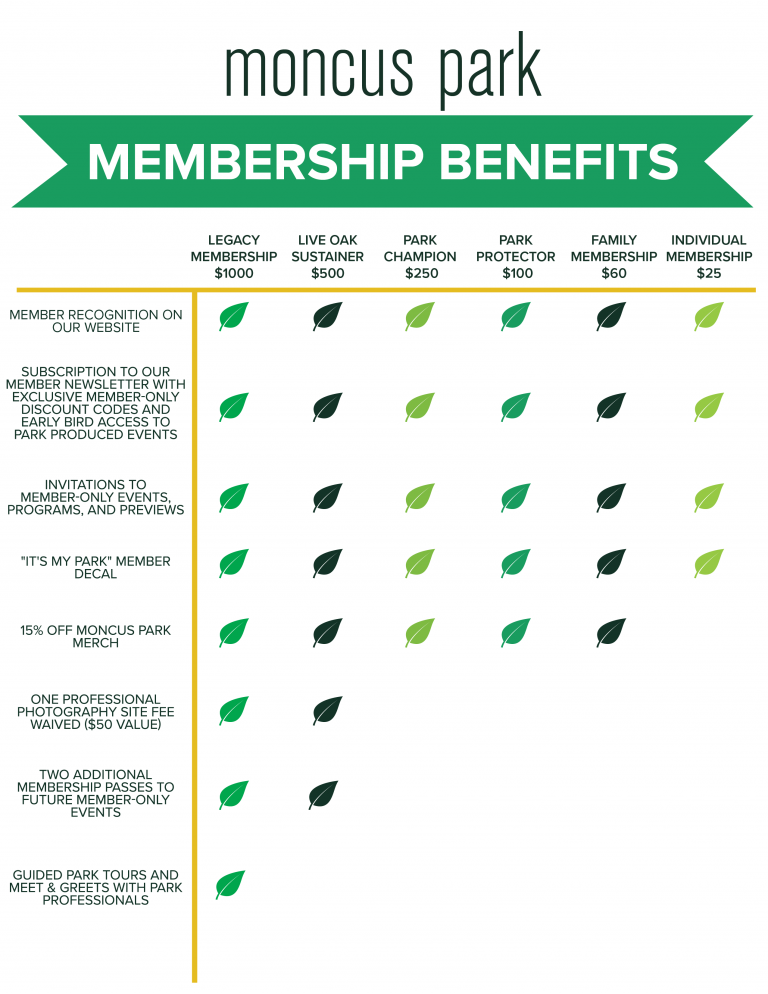 ADDITIONAL MEMBERSHIP INFORMATION:
Memberships are non-refundable

Memberships will automatically renew a year from your register date. Emails will be sent a month prior to your renewal date to serve as a reminder if you need to cancel or wish to upgrade your membership

Please contact Avery Comeaux for any membership related questions at acomeaux@moncuspark.org or call us at (337) 500-1177
Thank You to Our 2021 Members
Alan and Cindy Appley
Alan & Donna Hebert
William & Nancy Crays
Gayle & Brent Milam
Dr. Chase Dronet
David & Anne Calhoun
David & Connie Landgrave
Dorothy Clyne
John & Ann Redd
Katie Ferguson
Ken Kastner
Kenneth Duzan
William & Lauren Poche
Donald & Melissa Ross
Major & Natalie Person
Paul & Carolyn Breaux
Rob & Toni Eddy
Ronald Daigle
Michael & Shira Pfister
Tom & Erin Phelps
Brett & Donna Mellington
Christy Colomb Shaw
David Mercer
Jacob & Eleanor Groth
Dr. Jim & Carol-Ann Piccione
Judy Sturm
Lee Verret
Patrick & Donna McDonald
Paul & Carolyn Hebert
Shawn Hodge
Stephanie Day
Todd Trahan
Andrew & Mitzi Duhon
Denbo & Barbara Montgomery
Bettie Skains Sonnier
Brandon & Joan Wallace
Chelsey & Nick Roberie
Claire Lowry
Claire Tauzin
Donna Fontenot
Donna Hollier
Edith Swiney
Elizabeth & Scott Hamilton
George & Elizabeth Holland
Guy Hokanson
Hal & Chris Butts
Walter & Jean O'Roark
Julaine Gray
Karen Trahan
Glenn & Kelly Courville
Kent & Betsy Pierret
Lynette Fraser
Lynette Mejia
Marlene & Jerome Wenzel
Mary Jane Bauer
Kam & Mazie Movassaghi
Melissa Llewellyn
Michele Zerangue
Myra Tener
Nanette Cook
Phillip & Bernadette Lank
R2 Positive Culture
Aimée Dominique
Bryan Boudreaux
Cherie Hebert
David & Sue Adams
Diane Fontenot
Donna Sanchez
Rickey & Ed Domingues
Steve & Elaine Richard
Gene & Elizabeth Callais
Kim & Elizabeth Nehrbass
Erin Roy
Carol & Frank DeBenedetto
Gayle Smith
Heather Birdsong
Jean & Bill Finley
Jeff & Rhonda Daigle
Ernest & Judy Daniels
Judy David
Julie Lafleur
Kay & Albert Rees
Lauren Bourgeois
Marlene Doucet
Dr. Carolyn Frenett & Michael Huber
Nell Aucoin
Roscoe Trout
Thomas & Rachel Blanchet
Tom & Mary Moran
Raymond & Theresa Beaugh
Paige Chatelain Biggar
Amy Schwarzenbach
Anissa Talley
Anne Keller
C.J. Miller
Carl LeBlanc
Catarina Buettner
Darrel Leger
Eileen Menard Martin
Eric Martin
Jack Turner
Jean King
Jenny Castille
Jody Smyth
JoEllen Coussan
Joey Mouton
Kathleen Knierim
Laura Truxillo
Marie-Dianne Reed
May White
Sid Savoie
Susan Arceneaux
Rev. Dan Latour