December 16 - December 29
Hours are 5:00 pm - 10:00 pm. Closed on Christmas Eve & Christmas Day.
Celebrate the season with live music, a Christmas Market, kids activities, local eats, a visit from Santa, photo opportunities, and more!
FREE PARKING at Cajun Field with a short shuttle to Moncus Park!
Gates open at 5pm - Imagination Station with Kids Activities and pictures with Santa from 5pm-8pm - Story Time at 5:30pm - Live Entertainment begins between 7pm-7:30pm
Prepaid ticket prices are $10 per person and can be purchased online. Tickets at the door will be $15 and can be paid by cash or with credit card. Additional ticketing options include Family Passes that include tickets for five and close parking for $55 and VIP tickets that include access for two to our VIP tent, 4 drink tickets, and on-site parking for $150. Family passes and VIP tickets must be purchased in advance. General admission ticket purchases include FREE PARKING at Cajun Field with a short shuttle ride to and from Moncus Park. 
Interested in becoming a vendor for future events? Sign up below!
LIVE ART INSTALLATION - FEATURED ARTISTS
FEATURED STORYTIME AUTHORS
Storytime will take place each night of the event at 5:30 pm in our Dining Hall.
Thurs, 12/16
Denise Gallagher, Moonsong
Fri, 12/17
Alysson Foti Bourque, Alycat and The Friendship Friday
Sat, 12/18
Susan Martin, The Night Visitor
Sun, 12/19
Taylor Curry, Rise & Shine, Sweet Child
Mon, 12/20
Margaret Simon, Bayou Song: Creative Explorations of SWLA
Tues, 12/21
Andrea L Olatunji, Guillo, el armadillo
Wed, 12/22
Charles Jolivette, Bayou Babies
Mon, 12/27
John & Phyllis Comeaux, Winnie & the Mystery Moonstones
Tues, 12/28
Gayle Webre, When I Was An Alligator At Christmas
Wed, 12/29
Micaela Simpson, My Name is Queen
THANK YOU CHRISTMAS IN THE PARK SPONSORS!
Click below to join this group of generous sponsors who helped make Christmas in the Park a reality.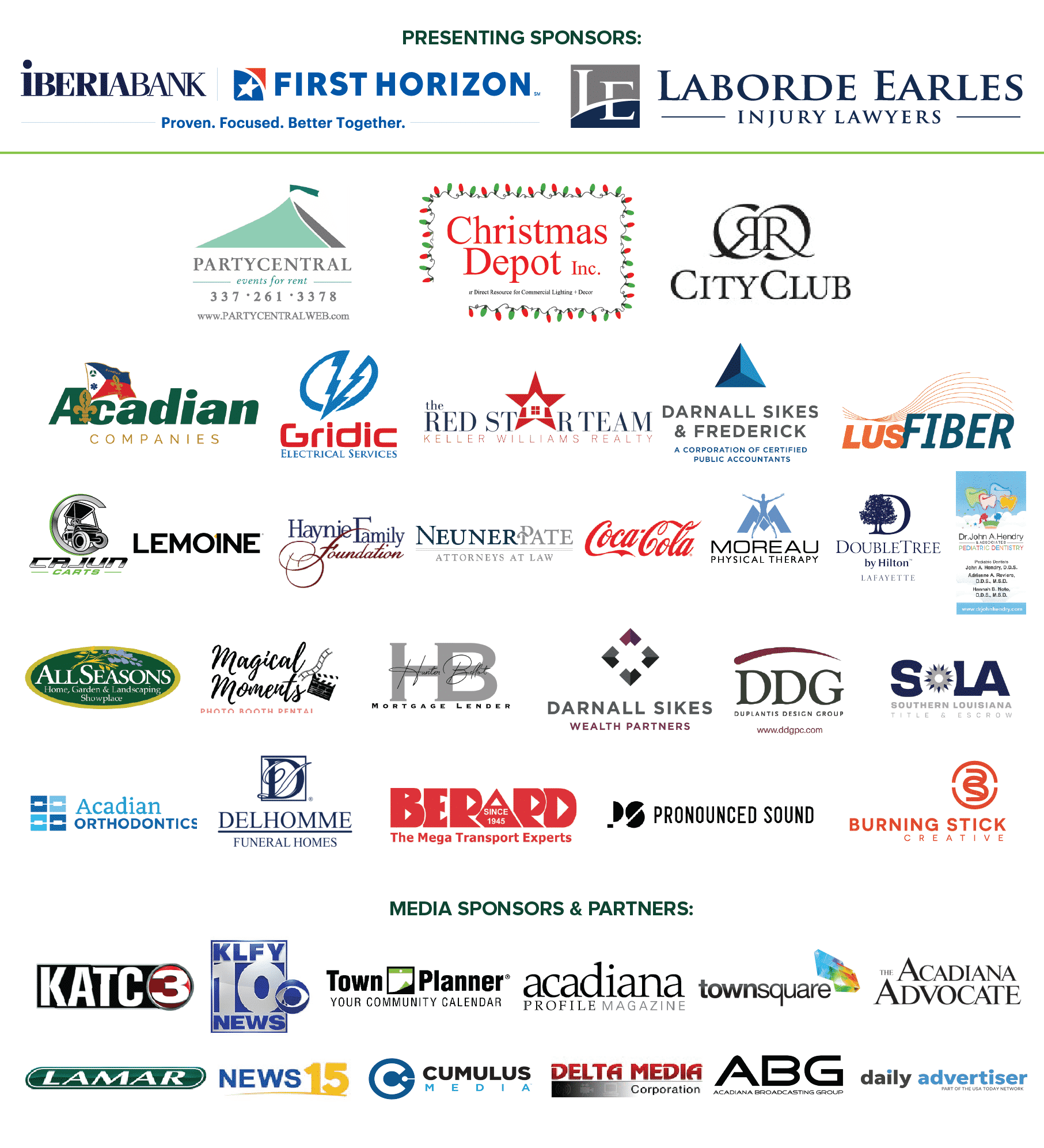 Countdown to
Christmas in the Park
Moncus Park is committed to the safety of all park patrons. We will adhere to all CDC guidelines for this outdoor event. All participants and guests are reminded to observe social distancing guidelines when attending Christmas in the Park.
*Moncus Park is currently not open and is under active construction.