It's been quite the start to 2021 at Moncus Park.
Construction is taking place on a playground, interactive water feature, treehouse, Veterans Memorial, dog park, amphitheater, walking trails and more. The longtime Farmers Market continues to draw hundreds of patrons each Saturday morning and increased interest from local vendors. Plans are in the works for a large scale, multi-day Christmas in the Park festival this December.
Meanwhile, JP MacFadyen will transition this summer into his new role as the Park's Executive Director. Longtime Executive Director Elizabeth "EB" Brooks will remain with the Park in a new role as Founder.
"It's exciting and it's humbling," said MacFadyen, who has served as the Park's operations director for two years. "To follow in EB's footsteps is a big deal. When I took the job of operations director, it was never my intent to become the executive director, so it's humbling on lots of different fronts. There's a lot of responsibility because this is for the community and the people. I know the expectations are high."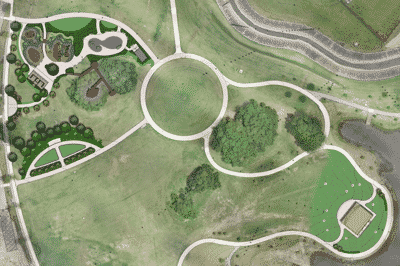 The property, formerly known as the UL Horse Farm, began drawing more attention in the mid-2000s when developers eyed the land. Brooks and another then-UL student led a campaign that resulted in former Lafayette Mayor-President Joey Durel securing city funding in 2012 to purchase the land from UL for $6.8 million, with the goal of creating a world-class public park.
Over the years, city leaders have gathered opinions from thousands of Lafayette residents about their ideas for the park through surveys, meetings and more. The Lafayette City-Parish Council approved a master plan in 2014, and extensive fundraising and organizational efforts have been taking place ever since.
With construction well under way, a large part of MacFadyen's new responsibilities will include overseeing the ongoing construction of numerous new features that are all designed to be inclusive for everyone and pay homage to both South Louisiana and the Park's own history.
For example, the playground, water feature and treehouse will all be located adjacent to each other in the front portion of the Park with a swamp theme. The bubblers on the splash pad will be in the shape of cypress tree knees. Kids will be able to climb inside the 25-foot alligator replica water feature. There will be rubber surfacing in custom colors that reflect the area's natural landscape.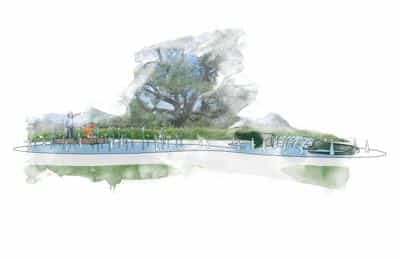 MacFadyen added that the treehouse will include elements from the iconic red barn that was torn down in recent months because of its poor condition, including the cupola, tin and red cypress siding.
Another key feature will be the Veteran's Memorial. MacFadyen said this will include 12 historic markers representing major conflicts, plus an American flag and flags representing each service branch. Community members continue to purchase $100 paver bricks that will be installed at the memorial with the names of local veterans inscribed on each.
"We're proud to honor those who have served and their families," MacFadyen said. "That feature has actually been designed by veterans and they continue to help sell bricks and raise funds for it. I see it as this hyper-focused community project that's inside the bigger community project of Moncus Park."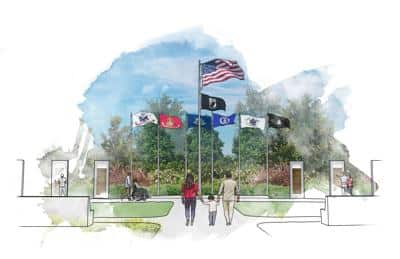 Since the 100-acre property gained widespread community attention beginning in 2005 with the Save The Horse Farm campaign, many have discussed how to balance community assets and growth with keeping portions of the property in a more natural state. MacFadyen said the projects strike that balance, with plenty of opportunities for both engagement and solitude.
"I kind of look at it as the front 50 acres and the back 50 acres," he said. "The front portion will be more developed, but even inside of that, the large majority of it will still be open space. There will be plenty of areas to hang out with friends and not feel like you are in the play zone. For the back portion, the long-term plan is a more contemplative, quiet space with a pond, small pavilion and sculpture garden. But even without those elements, it's really a space for prayer or quiet time."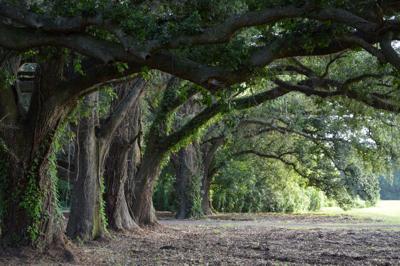 MacFadyen said he knows many in Lafayette are ready to see the new features take shape, but he's thankful for their continuing patience and support.
"I think it's a testament to the community that people recognize this is such a gem," he said. "When you talk about 100 acres in the middle of the city, how could you not get excited about it? We're taking the long view that this is for our generation, our kids and their kids."
To see the full article in The Acadiana Advocate, click here:  Moncus Park features taking shape as homage to Louisiana landscape and Horse Farm history | Sponsored: Moncus Park | theadvocate.com