Celebration VIP
Honoring our Veterans in the Park
---
Moncus Park hosted Celebration VIP on November 11, 2017, honoring veterans on Veterans Day. Special tribute was paid to Pearl Harbor survivor and former Marine Bob Lowe, who died in 2015. The event was held near the future site of the Veterans' Memorial inside the park. A special half-time show included a military honor guard, singing of The National Anthem, the Pledge of Allegiance, and presentations on the Veterans' Memorial and Lowe.
Learn more about the Veterans' Memorial
THANK YOU TO ALL OF OUR 2017 SPONSORS!
ON CALL Band — Petry Family Dentistry — Goforth and Lilley, Personal Injury Lawyers — VFW Post 9822 — VFW Auxilliary Post 9822 — Veterans Action Coalition — Mr. Rodney Hamilton — Stine
Pratt Family Chiropractic — Lafayette Music — Matthew Lane, Attorney — Drs. Joan and Skip Palmintier — Mr. Tom Grote — The American Legion Post 69 – Commander Daniel J. Bentley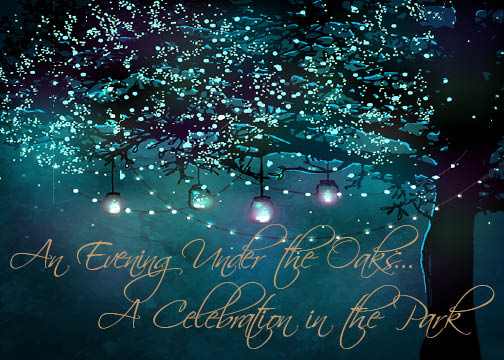 Evening Under the Oaks
A Celebration in the Park
---
Our annual Evening Under the Oaks Gala was held on November 15, 2017, under a blanket of stars from within the grand oaks of Moncus Park. More than 300 guests enjoyed food by iMonelli, live music by The Jonathan Moody Band, and a champagne raffle for a $5,000 shopping spree at Lee Michaels Fine Jewelry. The gala was presented by IBERIABANK and Park Place Surgical Hospital. Moss Motors was the parking sponsor and offered gala participants valet rides to the event's welcome tent in some of the newest Mercedes Benz vehicles.
The event was a success, honoring Dr. Kip Schumacher and Mrs. Carolyn Doerle Schumacher, two of the park's biggest donors. At the event, designs for the park's Farmers Market Pavilion were unveiled, which will memorialize the legacy of Mr. Paul A. Doerle, Sr., the founder of Doerle Food Service. This open-air pavilion is the future home of the weekly Lafayette Farmers and Artisans Market held on Saturdays from 8am to noon.
Also, in addition to being one of the presenting sponsors, IBERIABANK announced a $1,000,000 contribution toward the park's construction. This surprise announcement inspired those present, and kicked-off Moncus Park's end-of-year fundraising efforts.
THANK YOU TO ALL OF OUR 2017 SPONSORS!
Christmas in the Park
---
Lafayette Roofing & General Contractors LLC.'s Christmas in the Park 2017 was a huge success! A special thank you to all participants, sponsors, Louisiana Red, The Music Box, local vendors, and Santa for such a special evening! See y'all next year!
Eat & Drink
Jefferson St. Pub — Ms. T's Cookies — Dani Cakes — Simply Carmelicious Authentic Pecans — The Rolling Pin LLC — Acadian Slice — Cochon Cannery — Scratch Farm Kitchen — C'est Bon Manger Food Truck — Kona-Ice of Acadiana — The Funnel Factory — Cajun Cane — Evan's Honeys
Shop
Lularoe, Marissa Painter — Hannah Gumbo — Parish Tins — Homespun — K & T Creations — Alleycat Boutique — A Rolling Stone Jewels — Children's Books — Louisiana Music Map — Roving Creative — TWO&21 — Matilda Jane Clothing — Noni's Kitchen, LLC — Paparazzi Accessories — The Beloved Project — Amborella Boutique — Cajun Crate — Cajun Mamie Dip Co. — Origami Owl — Perfectly Post — Shop Sagi — Forever Young Boutique — My Urban Poncho, Inc — Adorn — Jackie's Creations — Folklore Goods and Supply — JulesCreations— Pottery Alley — Norwex — Younique — Barkopolis Bark + Pub — Louisiana Legs — Lehman Ashley — Premier Designs — Southern Bed Swings — Taylor Renee Designs — Alex Malay Boutique — Crimson Fin Southern Apparel, LLC — Brendon Delahoussaye Photography
Play
Pictures with Santa — Face Painting — Acadiana Fun Jumps kids' games and activities area
THANK YOU TO ALL OF OUR 2017 SPONSORS!